The main bedroom of the villa at The Ritz-Carlton, Haikou (Photo/Courtesy of The Ritz-Carlton, Haikou)
With the Chinese New Year, The Ritz-Carlton, Haikou has opened 16 enchanting villas including 12 two-bedroom villas and four four-bedroom villas, adjacent to the legendary 350-acre Blackstone Golf Course. Surrounded by tropical gardens, each villa features an outdoor private pool and pavilion. With more space to enjoy the exhilarating surroundings, the luxurious villas are a perfect retreat for golfers, families or a group of friends.
"As the growing economic, financial and tourism hub of Hainan Province, Haikou presents outstanding opportunities for the hospitality industry," said Christopher W. Sommers, the general manager of The Ritz-Carlton, Haikou. "At The Ritz-Carlton, we are always delighted to create special memories and experiences for our guests. I think this is what makes the Chinese truly understand the value of this brand. With the opening of the villas at The Ritz-Carlton, Haikou, our guests will receive a whole new and unique option for luxury experiences in Hainan." These newly opened villas are extending the classic detailing, generous space and tasteful interiors of The Ritz-Carlton, Haikou. Guest rooms feature fabrics and patterns inspired by vintage golf elements, ensuring no two spaces are alike. Wall panels and light fixtures incorporate stitching that evokes handmade golf shoes, while antique leathers make references to a vintage golf bag. Tartan flooring reminds guests of Scotland, the birthplace of golf. When you step into the private garden through floor to ceiling glass windows, you can escape the noise of the city, relax and rejuvenate yourself. The villa club house pairs exclusive and elevated service with classic residential ambiance. Guests can chat about their golf stories by a stone fireplace or share a private moment in the library sitting room with an English inspired design and a cultured atmosphere.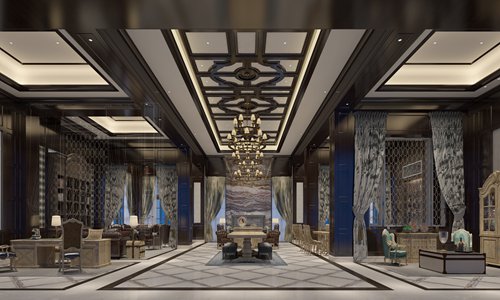 The lobby of the club house at The Ritz-Carlton, Haikou (Photo/Courtesy of The Ritz-Carlton, Haikou)
To elevate the luxury experience, The Ritz-Carlton, Haikou offers exclusive amenities and privileges to villa guests such as exclusive check-in at the club house, the morning sunrise refreshment basket, personal mini-bar, club house afternoon tea, as well as tennis and golf during their stay. In addition, the ladies and gentlemen of the villa team will gladly handle special occasions such as poolside barbecue parties, in-villa game nights and in-villa private dinners to truly create an unforgettable experience for guests.