Takeru Seino stretches noodles in his restaurant. (Photo: Zhang Yiqian/GT)
On a Sunday morning, when almost all the shops on Yasukuni-dori street, Tokyo, are closed, a line quietly forms in front of a Chinese noodle shop. At 11 a.m., staff open the door and usher customers inside.
The restaurant is small. Next to the door is a one-person cashier counter, followed by two long rows of tables and chairs. Inside, the shop manager Takeru Seino and a few of his staff stand behind a large glass pane wearing aprons and white ethnic Hui caps, taking orders and making the noodles for everyone to see. Over the glass pane hangs a sign in Chinese that says "Mazilu Beef Noodles."
Seino, 39, is originally from Hokkaido. When he opened the shop in August last year, it became an instant hit. Local media flooded to report on the shop, with some praising his fare as "dream noodles." For Seino, it is the realization of a dream that began 20 years ago.
Amazing flavor
When Seino was 19, he studied at Beijing Foreign Studies University as an exchange student with his friend, Keiichiro Kondo. At that time, noodles were an affordable but delicious choice for an exchange student, and such shops could be found everywhere in Beijing.
He was amazed by the taste. "In Japan, noodles are usually made with pork soup and the taste is rather thick. But the Lanzhou lamian (stretched noodles) are beef noodles made without additives, and the soup is clear but the flavor isn't lost," he told the Global Times. Lanzhou is a city in Northwest China, famous for noodles made by the local Muslim residents.
When he returned to Japan after graduation, he realized there were no restaurants that did authentic Lanzhou lamian. He went around Tokyo looking for something similar, but inevitably ended up disappointed with what he found. All the restaurants that claimed to offer Lanzhou lamian just didn't have the same taste.
Since then, Seino has worked in the food business in one way or another. His focus has been on Chinese cuisine, including taking a job at Xiaofeiyang hot pot. He had previously wanted to open a Lanzhou noodle shop and even recruited a Chinese chef, but he was not from Lanzhou and his noodles were not up to scratch. Then, an idea struck him: he would learn to make the noodles himself.
In the winter of 2013, Seino and Kondo went to Lanzhou and officially began their quest for authentic noodles, accompanied by a staff member from a trading company set up by Kondo, who served as a translator.
On the hunt
When in Lanzhou, the group took taxis around the city hunting for the best beef noodles among the more than 1,000 beef noodle shops there. Sometimes they would eat as many as six bowls in a day. After visiting each shop, they would sit together and evaluate the taste, the soup, the ingredients and the noodles.
Of all the shops they tried, Mazilu came out on top.
"In my opinion, it fits Japanese tastes the best. The soup isn't too strong or spicy, and it's an old shop with history," Seino said.
Through a friend in the Japanese congress who contacted the Chinese embassy, Seino was finally put in touch with Ma Ting, the shop manager of Lanzhou Mazilu.
At first, however, Ma did not want to take on an apprentice, as the shop had been in his family for three generations and they had never taught an outsider, let alone a foreigner.
But Seino didn't give up. He went back to China several times and first tried befriending Ma. They would sometimes take a drink together and chat.
His efforts finally paid off, and at the end of 2016, Ma agreed to take him on. He later told Chinese local media that after seeing how Seino eats noodles, he concluded that "he likes it from the bottom of his heart."
Seino started training at once with a chef from Mazilu. The chef let Seino stand next to him and taught him the whole process from the starting point: making the dough. The dough for making Lanzhou noodles is different from other types, because it needs to be soft enough for the chef to be able to stretch it and make into noodles, and the hand gestures are also important. A lot of effort is also put into making the soup. The beef and bones are stewed in a pot along with some secret ingredients for hours.
In order to learn the process well, Seino even had to practice in his hotel. He bought a 25-kilogram bag of flour and practiced making the dough every night. His arms and shoulders were often sore from kneading.
"Because my visa only lasted two weeks, I had to go back and forth from Japan and China in order to continue my training," Seino said. He traveled continuously for two months until the master approved of his skills. In August 2017, he opened his restaurant.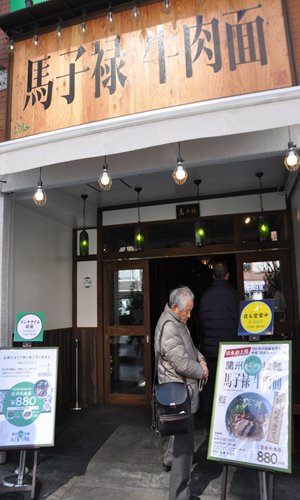 A customer looks at the menu in front of Mazilu Beef Noodles in Tokyo. (Photo: Zhang Yiqian/GT)
Taking measures
Despite striving for authenticity, Seino did make some changes to the noodle making process. When he was learning from his master in Lanzhou, he was amazed by how the chefs could tell the amount of ingredients needed just by experience and touch. So he bought a thermometer, and when the master said the oil was ready, he quickly measured the surface temperature of the pot.
He also recorded the moisture of the flour, the amount of water to put in, how much salt was added, and so on.
A special ingredient is added to the flour to make the dough soft enough to be pulled, but the Chinese chefs usually relied on experience to gauge how much was needed. Seino had to measure it using trial and error.
After opening the shop in Tokyo, he received praise from both Japanese and Chinese customers. Some Chinese students who ate there even said on forums and social media that it reminded them of home. He noticed that many of his Japanese customers were women and elderly people. He guessed it was because the beef noodle soup was not as thick as traditional Japanese noodles and suited their tastes better.
In the future, his challenge lies in maintaining the quality. The shop only has three chefs who can pull noodles, including Seino himself, and it opens from 11 am every day until the soup runs out.
To Seino, it is the realization of a long-time dream.
"I hope people come to the shop, taste the noodles, and develop an interest in Lanzhou or China. Then I'd consider my goal fulfilled," he said.