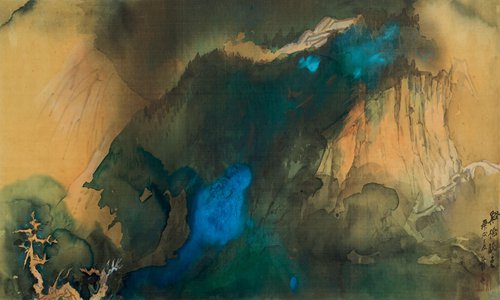 Zhang Daqian's Twilight of Xiqiao (Photo/Courtesy of Holly's International auction house)
More than 1,300 pieces of exquisite work will be shown during the 2018 Spring Auction at the Nan Fung International Convention & Exhibition Center in Guangzhou, Guangdong Province from May 20 to 23. The four-day auction was announced by Holly's International auction house during a press conference on May 14.
In this spring auction, Chinese calligraphy and paintings depicting three genres will be on display: ancient paintings and calligraphy, modern paintings and calligraphy and works of Guangdong art from the past century.
Masterpieces from famous artists will also be shown, including Zhang Daqian's 1984 work Twilight of Xiqiao, which set the world auction record, Zhao Zhiqian's explanation of Liu Xiong's Tablet and the prefaces and postscripts of Wu Changshuo and Wang Guowei.
Meanwhile, its rare collection section will showcase ancient and modern Chinese and foreign wine and treasures, aged Pu'er tea and items from Japan that can nourish the mind and body and invigorate one's life.